Welcome to my website and online portfolio. I am a Berkeley based photographer. I began taking pictures with my Brownie Starlight camera in grade school and built my first darkroom 35 years ago. My preference is for B&W film based photography and traditional darkroom techniques. I do shoot digital as well but most of the images you will see here were scanned, without manipulation, from archivally processed gelatin silver prints.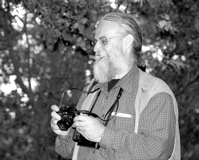 My favorite subjects are women and dance. I do not shoot in a studio, but rather with available light on location. The freedom and spontaneity that 35mm allows fits best with my style of shooting, though I do shoot medium format as well. Often working in low light, I use fast lenses and film. My favorite films are Tri X, Delta 3200 and Kodak HIE (infrared). I find inspiration in the work of artists and photographers who were active around the turn of the century.
It is difficult for me to draw a line between my personal and commercial work. I am available for portraiture and I also capture the moments that make weddings special, a few times each year. I document window creations for designers and proprietors. I sell limited edition prints through Scott Nichols Gallery and my own efforts and exhibitions. Usage rights are available for many of my images (please respect my copyright). Feel free to contact me with inquiries.
Enjoy your visit,
Andy Stewart